The "Vittoriano": The Altar of the Fatherland in Rome - Virtual Experience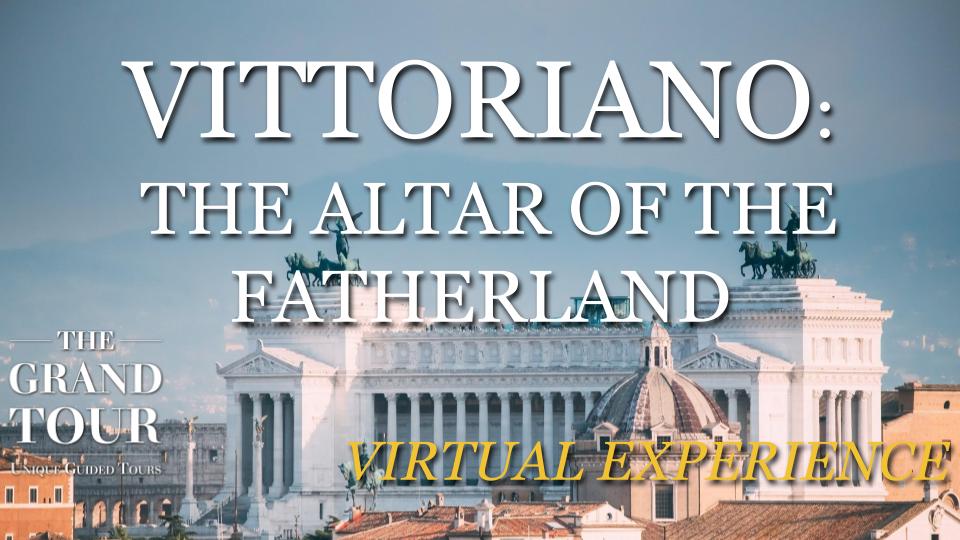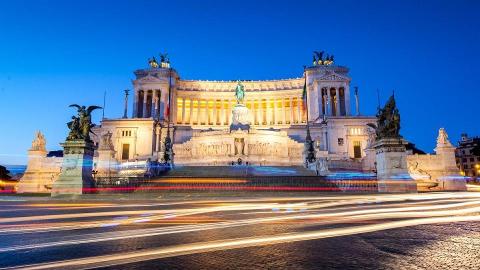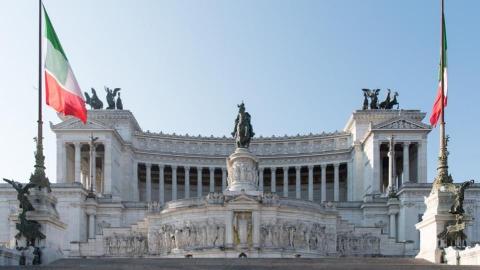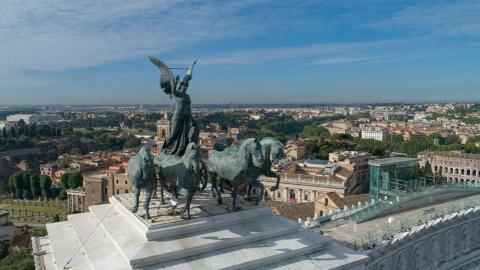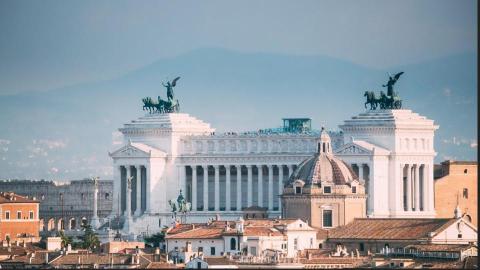 Duration: 60 Minutes (approx.)
Product code: VIRTUALGRP1030
The "Vittoriano": The Altar of the Fatherland in Rome - Virtual Experience
The Vittoriano is the National Monument dedicated to celebrating King Victor Emanuel II of Savoy and the Unification of Italy, so it's also known as the Altare della Patria: The Altar of the Fatherland in Rome. It has an imposing and oversize, that towers over Piazza di Venezia ad Roman Forum, in the intentions of its creator the Architect Count Giuseppe Sacconi was a sort of Mixt between the Pergamon Altar and the Propilaei of Athens: an hommage to those civil liberties and rights recently conquered with the Unification of Italy.
But its construction which spanned several decades, sacrificed a whole middle age and renaissance neighborhood with several buildings tore dows to make room for it, it also became the Monument to the Unknown soldier after WWI and was used strategically by Mussolini during Fascism as a scenographic place for his militarist rhetoric displays of power.
the Building still today attracts mixed reactions from both locals and tourists but has inside a whole museum about the unification of Italy and besides the stunning views that you can enjoy from its top the visit to this large marbly monument is a journey into Italy's often misunderstood unification process.
In this virtual experience, we will discover the building inside out with its many underground chambers and collections of historical objects, artworks, and militaria as well as its controversial construction.
HOW DOES IT WORK?
After registering or purchasing your tour you will receive a voucher with a Zoom link, a Meeting Id, and a Password. You only need to open the link in Google Chrome from your PC or
download the free app to watch it from your tablet or phone. You may also connect your device to tv to enjoy and share the show with your family. You only need to buy one ticket per device connected, not per person, so the whole family can watch from one device!
WHAT HAPPENS IF I MISS MY SESSION?
If you miss part of all of it don't worry as a recording is set out for every session ONLY to the registered participants, hence you can watch it again in your own time!
HOW TO USE ZOOM https://support.zoom.us/hc/en-us/articles/201362193-Joining-a-meeting
BOOK 4 VIRTUAL EXPERIENCES PACKAGE AND SAVE!
You can choose to book 4 Virtual Tours at 40 euros (saving 20%), select the first tour you would like to join, then we will send voucher codes to book the next 3 or you can simply message us and let us know which ones you would like to choose next, the tours don't need to be in a row and credits can be used up to 2 years from the moment of purchase.
WANT TO GIFT THE VIRTUAL EXPERIENCE OF ARTS AND CULTURE?
We offer Gift Cards all year round, you can book any activity and select Gift Voucher, or check out our Gift Cards Page for more information.
Watch some of our Free Virtual Experiences on YOUTUBE https://bit.ly/3dE3RhN