The Appian Way - The Queen of the Roads - Virtual Guided Tour (Recorded)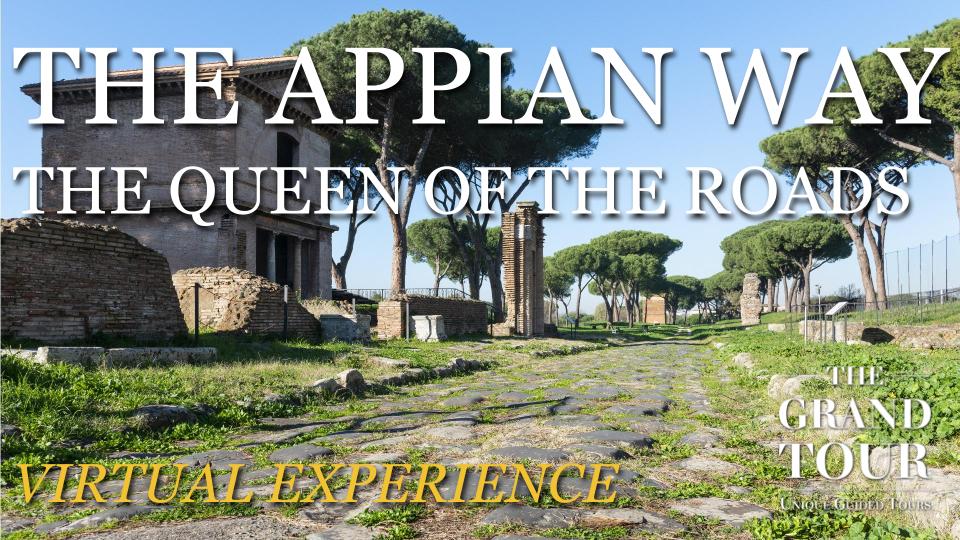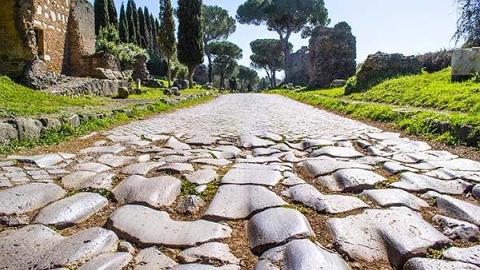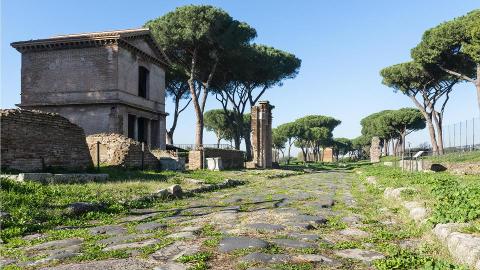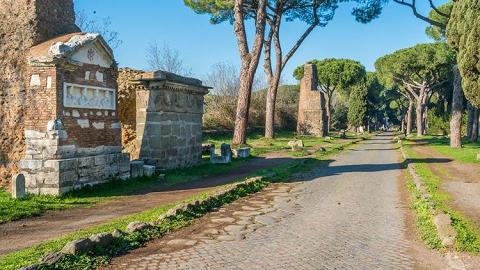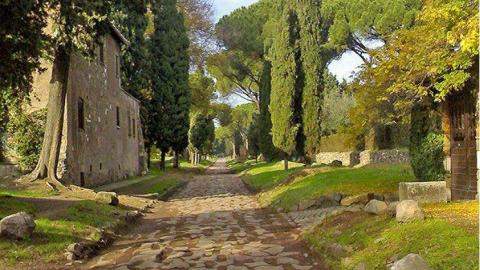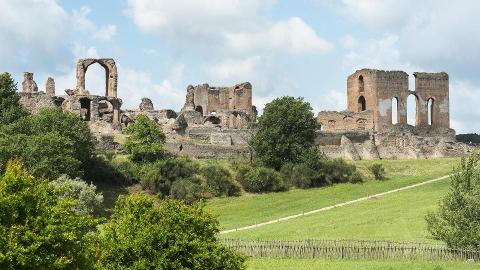 Duration: 60 Minutes (approx.)
Product code: VIRTUALGRP21
The Appian Way - The Queen of the Roads

The Ancient Appian Way, in Latin Via Appia, was the first and most famous of the ancient Roman roads, running from Rome to Capua in Campania and then further to south eastern Italy, reaching eventually Brindisi, on the Adriatic sea. The Appian Way was begun in 312 BCE by the censor Appius Claudius Caecus, hence it was named after him. At first, it ran "only" 132 miles (212 km) from central Rome south-south-eastward to ancient Capua, in Campania. By about 244 BCE it had been extended another 230 miles (370 km) south-eastward to reach the port of Brundisium (today Brindisi), situated in the "heel" of Italy and lying along the Adriatic Sea.
From Rome southward, the Appian Way's course was almost straight until it reached Tarracina (Terracina) on the Tyrrhenian Sea. The road then turned inland to the southeast to reach Capua. From Capua it ran east to Beneventium (Benevento) and then southeastward again to reach the port of Tarentum (Taranto). It then ran east for a short distance to terminate at Brundisium.
The Appian Way was celebrated by Latin writers like Horace and Statius, who called it longarum regina viarum, or "queen of long-distance roads." As the main "highway" to the seaports of south-eastern Italy, hence to Greece and the eastern Mediterranean, the Appian Way was so important that during the empire it was administered by a curator of praetorian rank. The road averaged 20 feet (6 meters) in width and was also slightly convex on the surface in order to facilitate good drainage.
The road's foundation was made of heavy stone blocks cemented together with lime mortar (a roman invention); over these, large polygonal blocks of basalt, a lava rock, were laid and were smoothly and expertly fitted together. The lava blocks formed a good traveling surface, and one that proved to have extraordinary durability over the centuries, so it is still preserved to this day and some material is used in central Rome, known as sanpietrini. The first miles of the Appian Way outside Rome are flanked by a striking series of monuments: large burial mausoleums, imperial villas, and aqueducts, and there are also milestones and other inscriptions along with the remains of the road.
This virtual journey will take us on a time journey along the ancient path of Rome's first long road.
HOW DOES IT WORK?

This Virtual Tour is pre-recorded, after purchasing access to the video you will receive a link to access the Virtual Tour when you want, you can watch the video as many times as you like as well. and does not expire.
The Present Audiovideo belongs to The Grand Tour Europe Ltd, and it is intended for pure education and entertainment purposes. All the Images, videos, places, and artworks shown in the video belong to their respective authors and are displayed exclusively for educational purposes and criticism under the fair use right; the owners and authors are credited in the audio commentary.
Purchase of this video is for personal use only and you cannot play this in public or distribute or resell it in any way.
WANT TO GIFT THE VIRTUAL EXPERIENCE OF ARTS AND CULTURE?
We offer Gift Cards all year round, you can book any activity and select Gift Voucher, or check out our Gift Cards Page for more information.
Watch some of our Free Virtual Experiences on YOUTUBE https://bit.ly/3dE3RhN