Villa Lante and the "Sacro Bosco" of Bomarzo - Virtual Experience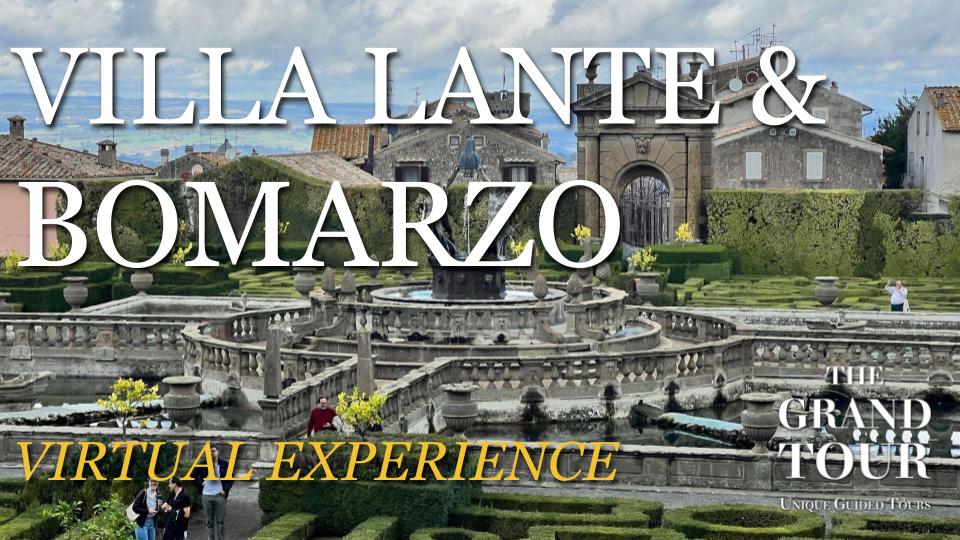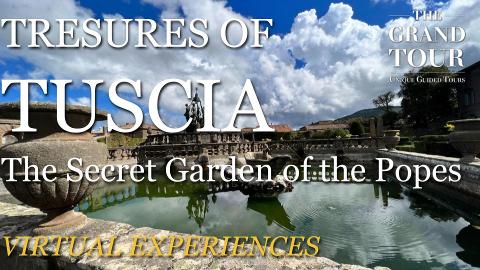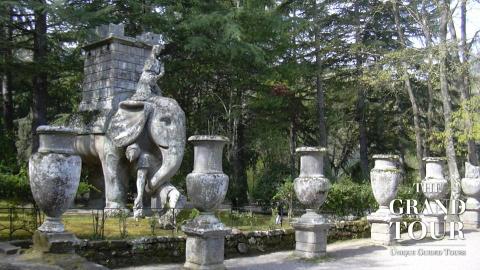 Duration: 60 Minutes (approx.)
Product code: VIRTUALGRP909
Villa Lante and the "Sacro Bosco" of Bomarzo

Treasures of Tuscia
Virtual Experience

There are many villages and towns that surround Viterbo that is well worth a visit. Our Virtual Experience will be starting with Bagnaia with the beautiful Villa Lante: a 16th-century villa that is noted for its fine gardens and fountains immersed in a hunting estate. build in the XVI century for the Cardinal of Viterbo, it then became the property of the Lante della Rovere hence its current name.

It features a maze, many large fountains adorned with statues and allegorical decorations, and renaissance esoteric symbolism created to amaze and surprise visitors. Nothing thou compared to the Sacro Bosco, the sacred wood, created by the nobleman and warrior Vicino Orsini, with an intricate path in the woods covering the valley right under the Palazzo Orsini in the town of Bomarzo. Known as the Park of Monsters, Parco dei Mostri, for its larger-than-natural statues carved in the volcanic bedrock and covered by lush green vegetation this somehow bizarre and unique creation remained abandoned for centuries to be only rediscovered in 1950 and now opened to the public.

Because of its uniqueness and references to ancient and renaissance mythology it had attracted many artists and travelers, including among others Salvador Dali, and several others. A journey into the Sacred Woods to be remembered!
TREASURES OF TUSCIA
An unmissable new short series about the treasures of this beautiful little-known Italian Gem: TUSCIA.\
THE TRESURES OF TUSCIA
November 6th

ETRUSCAN PLACES: CERVETERI AND TARQUINIA
November 13th
VILLA LANTE and THE "SACRO BOSCO" OF BOMARZO
November 27th
VITERBO THE CITY OF THE POPES
Dicember 13th
CAPRAROLA AND THE PALAZZO FARNESE
HOW DOES IT WORK?
After registering or purchasing your tour you will receive a voucher with a Zoom link, and a Meeting Id, and a Password. You only need to open the link in Google Chrome from your PC or download the free app to watch it from your tablet or phone. You may also connect your device to tv to enjoy and share the show with your family. You only need to buy one ticket per device connected, not per person, so the whole family can watch from one device!
WHAT HAPPENS IF I MISS MY SESSION?
If you miss part of all of it don't worry as a recording is set out for every session ONLY to the registered participants hence you can watch it again in your own time!
HOW TO USE ZOOM https://support.zoom.us/hc/en-us/articles/201362193-Joining-a-meeting
BOOK 4 VIRTUAL EXPERIENCES PACKAGE AND SAVE!
You can choose to book 4 Virtual Tours at 40 euros (saving 20%), select the first tour you would like to join, then we will send voucher codes to book the next 3 or you can simply message us and let us know which ones you would like to choose next, the tours don't need to be in a row and credits can be used up to 2 years from the moment of purchase.
WANT TO GIFT THE VIRTUAL EXPERIENCE OF ARTS AND CULTURE?
We offer Gift Cards all year round, you can book any activity and select Gift Voucher, or check out our Gift Cards Page for more information:
Watch some of our Free Virtual Experiences on YOUTUBE https://bit.ly/3dE3RhN