The Roman Forum and the Foundation of Rome - Virtual Experience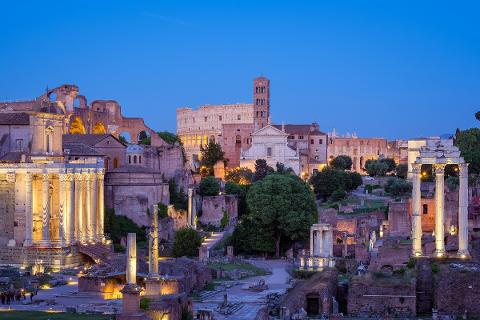 Duration: 60 Minutes (approx.)
Product code: VIRTUALGRP030
The Roman Forum and the Foundation of Rome - Virtual Experience

Everyone knows the legend of the foundation of Rome: from Romulus and Remus to the early Seven Kings, from deeds of the age of Julio Caesar to the decadence of the Late Empire every man who ruled Rome left a reminder of himself in Rome main public square. But how much of the original Myth is actually true? In this virtual experience we will explore the very origins fo Rome, the Myth of the foundation and the archeological evidence that has, surprisingly, matched most of the legendary stories.
How did Rome evolve from a humble village of shepherds to the one city Ruling the known world, setting a standard of civilization and world order with a legacy surviving up to this day? Maybe the answer is in the very origins of the Eternal City?
HOW DOES IT WORK?

After registering or purchasing your tour you will receive a voucher with a Zoom link, and a Meeting Id, and a Password. You only need to open the link in Google Chrome from your PC or download the free app to watch it from your tablet or phone. You may also connect your device to tv to enjoy and share the show with your family. You only need to buy one ticket per device connected, not per person, so the whole family can watch from one device!
WHAT HAPPENS IF I MISS MY SESSION?
If you miss part of all of it don't worry as a recording is set out for every session ONLY to the registered participants hence you can watch it again in your own time!
HOW TO USE ZOOM https://support.zoom.us/hc/en-us/articles/201362193-Joining-a-meeting
BOOK 4 VIRTUAL EXPERIENCES PACKAGE AND SAVE!
You can choose to book 4 Virtual Tours at 40 euros (saving 20%), select the first tour you would like to join, then we will send voucher codes to book the next 3 or you can simply message us and let us know which ones you would like to choose next, the tours don't need to be in a row and credits can be used up to 2 years from the moment of purchase.
WANT TO GIFT THE VIRTUAL EXPERIENCE OF ARTS AND CULTURE?
We offer Gift Cards all year round, you can book any activity and select Gift Voucher, or check out our Gift Cards Page for more information:
Watch some of our Free Virtual Experiences on YOUTUBE https://bit.ly/3dE3RhN